Discover Powerful Strategies to Take Your Business to the Next Level
Will You Be My Next

BIG SUCCESS

Story?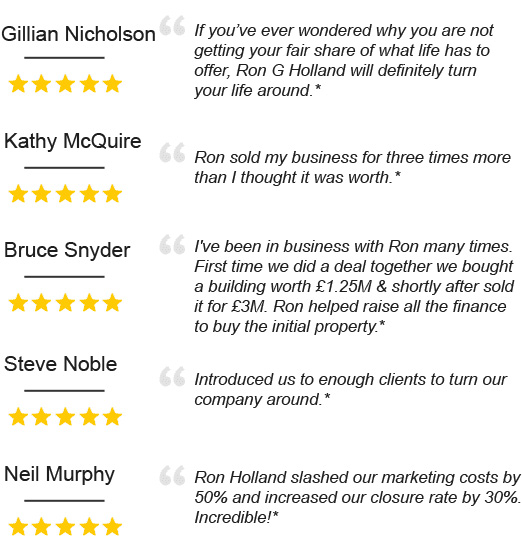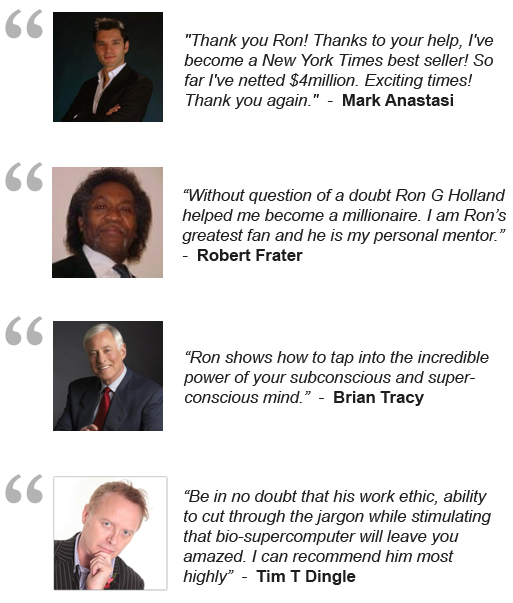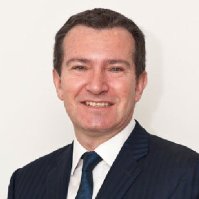 "Ron helped Optical Partners raise $3 million and I would not hesitate to recommend him." Michael Kraftman * *

Michael Kraftman Sells Out for a Substantial 7 Figure Sum…
"Vision Direct Group Ltd, Europe's leading online contact lens retailer, with sales of around $47 million in 2015, announces today that it has been acquired by Essilor International, the world leader in ophthalmic optics." *
* Disclaimer: Results may vary from person to person.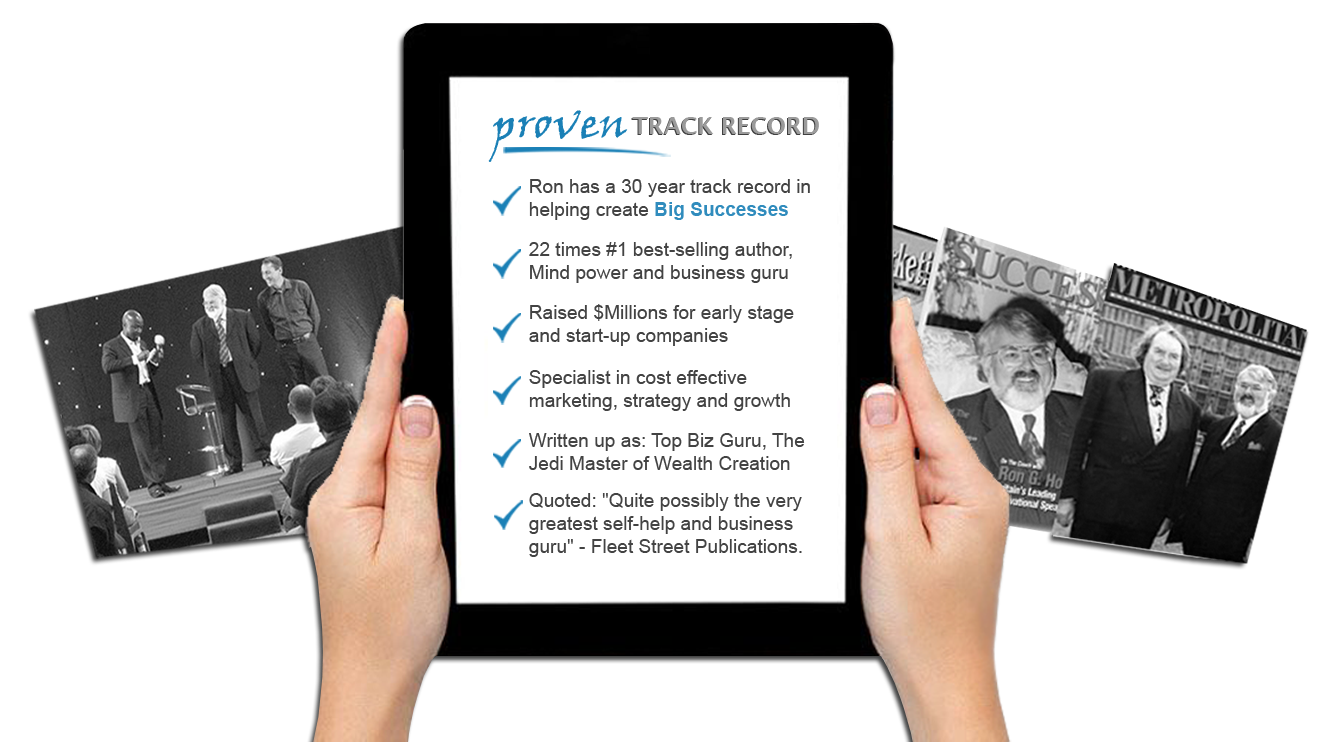 MENTORING WITH BITE…WHAT'S IN IT FOR ME?
My clients have various backgrounds, but all have one thing in common – they require a mentor who has proven results.  I pride myself on having helped numerous clients exceed their expectations…
*It's a Very Good Question. I specialize in helping people take their business to the next level, create big success stories and more freedom in their lives. I offer a full range of entrepreneurial and corporate mentoring services. If what you are specifically seeking is not mentioned here, all the more reason why you should contact me.
*Equity and Debt Finance: Capital is the life blood of business and many entrepreneurs live from hand to mouth, frequently with a financial horizon that is literally only days into the future. Many are working with a short-fall or working capital and don't even know it. The right mentor can lead you through the fund raising process – from documentation to money in the bank.
*Lead Generation: Many businesses would be flying if they just had a few more customers, but they don't seem to generate enough qualified leads to break free of gravity. The right mentor will get to grips with this dilemma and show creative ways of generating an abundance of leads – cost effectively.
*Massively Increasing Turnover, Growing Business & Increasing Profitability: To successfully grow a business to the next level in an expedient manner. The right mentor will show you methods of expansion that you may not have considered.
*Business Strategy: To grow any business requires a foolproof and bulletproof strategy and these usually come about by careful and considerate listening and brainstorming by all parties. Maybe even bringing in further outside advice and weighing up many options. Only when all the intel is on board, does and magical strategy appear, usually as a result of an idea from the subconscious mind – that feels intuitively right.
*Disclaimer: Results may vary from person to person.
*Acquisitions and Disposals: Many entrepreneurs in growth mode turn to the acquisition trail to grow their businesses. Many times you can keep doubling the size of your business without suffering too much financial indigestion. The right mentor can steer you clear of the all the pitfalls – of which there are many.
*Introductions at the Right Level: Often heard in business circles is the expression "It's not what you know, but who you know that counts" and this can frequently be true. Many times the right mentor can effect warm introductions to; investors, bankers, brokers, marketers, PR, designers, printers, webmasters, internet specialists, lawyers, accountants and other professionals who can add massive value and momentum to your business.
*Sales & Marketing: There are not too many businesses that would not benefit from a massive increase in sales and marketing expertise, growth and implementation. The right mentor will help you open your eyes and explore opportunities that you may have been blind to.
*Plateaued, Hit Buffers, Not Growing at the Rate you Anticipated, Suffering from Call Reluctance? Lost your Way; Vision, Mojo or Confidence? Many entrepreneurs and executives have tasted success and desire more but for one reason or another have ground to a halt or had the wheels fall off. Many times breaking through these barriers entails overcoming both business and mental hurdles. The right mentor can frequently hold your hand and help instill the vision and problem solving potency that you had when you first started out.
*I Might be Just the Right Mentor for You and Your Business. I am Professional Problem Solver, a Hired Brain. I get called in to solve a Multitude of Problems and mentor a plethora of clients from a multitude of industries on four continents. Let me know what I can do to help you, and how I may become part of your human capital.
*Disclaimer: Results may vary from person to person.
Test Drive Ron's Mentoring
(Please provide as much information as possible to help us serve you better.)
We respect your privacy. We NEVER share your information with anyone.
* EARNINGS DISCLAIMER: ANY EARNINGS OR EXAMPLES OF INCOME ARE ONLY ESTIMATIONS OF WHAT WE BELIEVE YOU COULD EARN. THERE IS NO GUARANTEE YOU'LL DO AS WELL IF YOU RELY UPON OUR INFORMATION. YOU MUST ACCEPT ALL RISK OF YOUR POTENTIAL EARNINGS OR LACK OF. WHERE SPECIFIC FIGURES OF INCOME ARE USED, AND ATTRIBUTED TO A PERSON OR BUSINESS, THOSE PERSONS OR BUSINESSES HAVE RIGHTFULLY EARNED THAT FIGURE AMOUNT. THERE IS NO GUARANTEE YOU'LL DO AS WELL IF YOU RELY UPON OUR FIGURES.
FINANCIAL AND INCOME RESULTS ARE BASED ON A WIDE RANGE OF VARIABLE FACTORS. WE HAVE NO RESPONSIBILITY OR WAY OF KNOWING HOW WELL YOU WILL PERFORM, AS WE DO NOT KNOW YOU, YOUR BACKGROUND, YOUR ETHIC OF WORK, OR YOUR ABILITIES, PRACTICES OR SKILLS. THEREFORE, WE DO NOT GUARANTEE OR IMPLY THAT YOU WILL BE FINANCIALLY WEALTHY OR RICH, THAT YOU WILL DO AS WELL AS WE DO OR EVEN MAKE MONEY AT ALL. THERE IS NO GUARANTEE YOU'LL DO AS WELL IF YOU RELY UPON OUR INFORMATION AND FIGURES. YOU MUST ACCEPT ALL THE RISK OF NOT PERFORMING AS WELL.
IF YOU MAKE ANY DECISIONS BASED ON ANY INFORMATION DISPLAYED ON OUR WEB SITE, IN OUR PRODUCTS, OR SERVICES, IT SHOULD BE DONE ONLY WITH THE KNOWINGNESS THAT YOU COULD HAVE SIGNIFICANT LOSSES, OR EARN NO MONEY AT ALL. ALL SERVICES AND PRODUCTS BY OUR COMPANY ARE FOR INFORMATIONAL AND EDUCATIONAL PURPOSES ONLY.